<![if !mso]><![endif]>

Llanon in WW II RADAR STATION

Alltwyd and Maesfron farms were requisitioned for the construction of a Chain Home RADAR Establishment. At intervals of 60 miles, these coastal RADAR Stations gave early warning of aircraft approaching Britain, and guided RAF interceptors to their target.

The work of RAdio Detection And Ranging aircraft was done in underground bunkers with only the shadows of the radar masts visible from the air.

RAF personnel were accommodated in a base camp built where Cylch Peris is today. The RAF is reported to have moved out very quietly about the time of D-Day.

CYLCH PERIS CAMP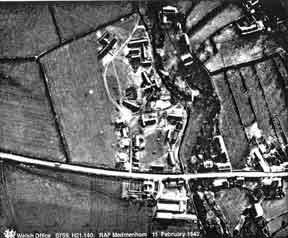 <![if !mso]><![endif]> The arrival of the airforce in Llanon increased opportunities for socialising. Weekly dances were held in the Church hall, picnics were organised on the beach and some romances blossomed into marriage. Children went to the camp to watch picture shows organised for the airmen.
| | | |
| --- | --- | --- |
| | | |
| | Portrait on a flour sack | |
The camp was later used to hold prisoners of war, first Italians and then Germans. The prisoners worked on local farms. Farmers paid their 'wages' to the County War Agricultural Executive Committee. Some Italian prisoners lived on the farms. They made willow baskets to earn some pocket money. One German prisoner was an artist. He asked if he could paint a portrait of Olwyn, daughter of one of the camp guards. He made a canvas from a white flour sack provided by Llanon bakery.
At the end of the war the camp was used to house displaced persons.
Lawruk Nicholaj was one of 60 at the Llanon Nissan Hut camp. He came from Market Harborough, having been released from Auschwitz by the Americans. They were working on land drains in Cardiganshire farms for the usual agricultural wages. They were monoglot but were being taught English.' Welsh Gazette 25.12.1947
Memories of the late Mr Dewi Rowlands