Llanon in World War II - Evacuees
During the 'May Blitz' of Liverpool in 1941 thousands of children were hurriedly evacuated from the city. Some of these children came to Llanon. Entries in the Llanon School log book tell us a little about them.
May 23rd 1941 "The children from St Albans RC, Liverpool were evacuated to this village this evening. The twenty nine pupils were accompanied by two lady teachers.
May 26th 1941 "The teachers with their pupils came to school at 10 this morning and remained for an hour"
May 27th 1941 "The Liverpool children commenced school this morning and were given the spare classroom."
January 5th 1942 "School reopened this morning after a fortnight's holiday. All our staff were present but the RC teacher in charge of evacuees had not returned."
Official evacuees also came from London in 1942
June 4th 'London evacuees arrived at Lampeter this evening and twenty were allocated for Llanon.
June 8th 'Sixteen London official evacuees were admitted into school this morning.
June 23rd 'Another London evacuee was admitted to school this morning. He was brought from the hostel to his billets yesterday.'
June 24th 'Dr Gwen Bevan visited the school this morning and saw the evacuees.'
July 16th 'Patricia Betts a London evacuee was taken from her billet to Aberayron Hospital.'
July 28th 'Two London evacuees-Jesse and Sheila Mustoc were taken to Borth Hospital.'
Aug 24th 'The two London evacuees who were treated at Borth Hospital returned to school this morning. One evacuee, Patricia Betts was taken back to London by her mother last Saturday.'
Another official group arrived from London in 1944
July 8th 'Thirty London official evacuees arrived in the village this evening.'
July 17th 'The London evacuees were temporarily absorbed into our classes this morning until they can be accommodated at Llanon MC Vestry.'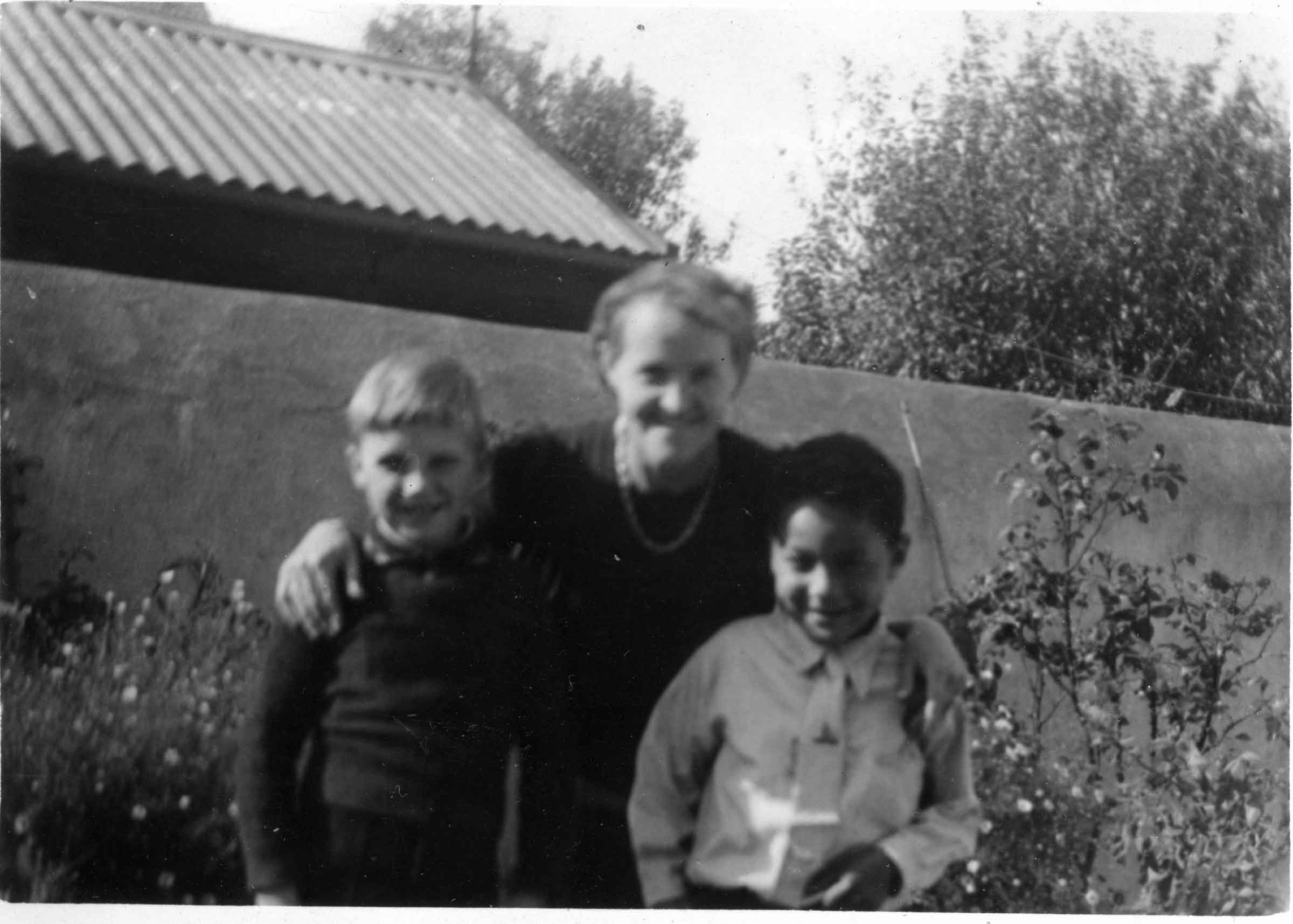 Evacuees at Wave Villa 1942
UNOFFICIAL EVACUEES
Many families made private arrangements to evacuate their children, often to relatives. The Llanon School Admission Book tells us where pupils had last attended school before starting at Llanon. It does not include the official evacuees.
YEAR

LAST SCHOOL

ATTENDED

1937

1938

1939

1940

1941

1942

1943

1944

1945

1946

London

-

2

33

11

4

-

-

12

2

Liverpool

-

-

-

-

-

-

-

-

3

-

Birmingham

-

-

2

1

-

-

-

-

-

-

Hull

-

-

1

-

-

-

-

-

-

-

Leeds

-

-

-

-

2

-

-

-

-

-

Manchester

-

-

-

-

2

-

-

-

-

-

S Wales

-

-

-

1

4

-

-

-

-

-

Other

-

1

7

3

1

-

1

2

1

2

None or Llanon

1

3

8

11

16

7

12

15

11

4

Total Admissions

1

6

51

27

29

7

13

29

17

6
| | |
| --- | --- |
| | Eira,age 13, Jack 12 and Gwyneth 9 came to Llanon with their mother. They started school on 7th October 1940. On reaching school leaving age of 14, Eira and Jack returned to London to work. Gwyneth returned to London after 2 terms at Aberaeron School. All returned to live in Llanon in later life. |
Recollections of an Evacuee
When the war began in 1939, my father David Evan Vaughan was one of the first to be called up into the Army. The next time that we saw him was in 1941 in Hull, East Yorkshire, our hometown. In 1941 I was aged 8 years with my younger brother, David aged 2 and Rosemarie aged 6 years. My mother was called Violet, her maiden name Nicholson.
Later in 1941 during a very heavy bombing raid on Hull, a bomb fell between our house and the shelter that we were sleeping in. Luckily we had quite a long garden. The edge of the huge crater was 3 feet from our shelter but bomb did not explode.
The whole area was cleared in case it was a 'timed bomb'. We, as a family without any belongings were put on a coach and 'evacuated' to Halifax. We lived in Halifax for about 6 months, moving 3 times.
Our grandparents in Llanon, who had Airmen billeted with them, applied to have us as evacuees. I remember leaving Halifax in the dark, very early in the morning. I do not remember arriving in Llanon.
It must have been very strange for my mother arriving with 3 children and no husband to introduce herself and us to his parents. We must have been a very tired and shabby group. Grandma must have realised what a heavy task she was taking on. It seems we all settled in very quickly and compatibly.
Grandma was an expert needle-woman and made Rose and I dresses for school. We were walked up the little Hill and led through the door. It was all very different from the large town schools we were used to and quite crowded. Rose went into Miss Jones's class. I was in Miss Parry's and the Headmaster took the bigger children in the classroom next door.
Our class was separated into 2 age groups. Miss Parry managed us all without a lot of fuss and mainly taught each group separately. The desks were tiered (I think) with steps. The desktop was like a long plank with ink well holes and a narrower shelf below. The seat was also a long polished plank seating 5 or 6 of us and the whole seat tipped up to let us into our places. For lessons we used mainly slates and had a small bottle of water and a cloth for wiping clean. Apart from practising writing with pen and ink we hardly had any paper. I don't even remember having books – which I longed for.
On Fridays we stood with our slates around the Blackboard and Miss Parry tested us for spelling and arithmetic. This dictated our seating in class. I often managed to be 3rd, but could never manage to beat the two John Davies's.
One little highlight of the school day was when the milkman rolled his churn across our classroom into the headmasters' room.
I remember one school day being spent picking potatoes in a field between Marion Villa and the main road; also a group of us collecting rose-hips to be made into vitamin rich syrup.
No one used the school toilets unless it was an emergency, the doors didn't close at all and they were horribly stinky.
The Headmaster was very strict. He lived on the main street. Early one evening a group of 5 or 6 of us ran along calling to each other. The following morning we were told off in front of the class as he waved his cane at us.
My best friend was Jean Evans of Chapel House. She had a younger sister Iona. We spent a lot of time together. After leaving Llanon we wrote to each other during out teens and met every summer holiday. From 12 years old I was allowed to travel from Hull, with my younger sister or a friend. We had to change trains 5 times; A lot of responsibility and trust.
Another friend was Teresa who lived in the house nearest to the Sea in Llansantffraed. Sometimes an older girl, Stella, tried to teach a group of us girls to dance. We had a good time making a din on some-ones wooden floor.
Another that I remember; John Davies who was staying with his aunt, their garden opposite Lunaria; another John Davies and his sister Margaret at Claravine. Jimmy Jones on the main street; Leonard, a little blonde haired evacuee with his mother and little sister in the houses near to Marion Villa; Mair near the post office; Mary and her two brothers, they walked quite a long way to school from a farm; Gareth, who had bright red hair like my sisters'; Gwyneth and little Rosemary from the Hotel.
If anyone came home from leave from the war we sometimes had a concert and one time a sports event. I can remember being very impressed by the pole-vaulter.
A marriage had us children in pairs on either side of the road between Marion Villa and Llansantffraed church, with a rope on the ground between us. As the wedding car passed over the rope pennies were given. Also on New Years Eve we went from house to house wishing everyone Happy New Year – in Welsh, of course.
Those two years in Llanon were for me very happy. After leaving I realized I was a country girl at heart and could not settle back into being a townie in Hull.
One sad part is that no one had the time to teach us the Welsh Language
Margeurita (formerly Margeurita Vaughan of Lunaria, Llanon and Hull, East Riding of Yorkshire)